You hear it all the time: "Write engaging posts! Engage with your audience! Engage, engage, engage!" But, even if you are writing well-thought-out, carefully crafted content, you still might not be getting the shares and discussions you'd hoped for. Social media engagement is hard.
Today's post aims to change that.
The best part is, you don't have to be a social hawk, a media maven, or a software geek to get the kind of results that you want from your social media endeavors. You just have to follow three simple steps on your social media platform.
I'll outline them for you, in more detail, further down in this post, but boosting engagement on any social network comes down to three main things:
Know What Your Audience Wants
Follow the 5/3/2 Rule
Scale Your Efforts
Let's look at the first step — "know what your audience wants". That's a pretty tall order to fill. Fortunately, I'll be breaking down each point into manageable, actionable steps, so that you can start getting social media traction, right away.
Know What Your Audience Wants
Your audience, whether they're recent college grads on LinkedIn or fashion-forward women on Pinterest, has three foundational desires:
They want to be acknowledged and valued
They want to connect with like-minded people
They want to be rewarded
So, how can you make these steps a part of your social media success story?
Let's go over each social channel individually and look at strategies and tools that you can use to implement these concepts in your social media campaigns:
Your Audience Wants to Be Acknowledged and Valued
Many companies forget the "social" aspect of social media – people simply don't go there with the objective in mind that they're going to end up buying something. So, fostering a bit of community outreach and understanding can go a long way toward letting people know how much you really do care about their ideas and suggestions.
It's great when brands reach out to communicate with their most fervent fans. But, what about when things go wrong? Too often, corporate demands that their social media team bury their collective heads in the sand until the storm passes over.
But, at least trying to meet and overcome objections, head-on, might prevent a lot of the very real backlash that some brands struggle to deal with on Facebook and Twitter.
Perhaps the worst approach is the auto-tweets, where the same message is displayed when a certain keyword or phrase comes up. One such incident happened with Progressive Car Insurance in the past, where a man's sister (a Progressive customer) was killed by an underinsured driver. To avoid paying the claim, Progressive's legal team tried to side with the underinsured driver (who was later found negligent).
For every mention of the case on Twitter, company spokes-character Flo's smiling face would appear, with this less-than-heartfelt auto-tweet: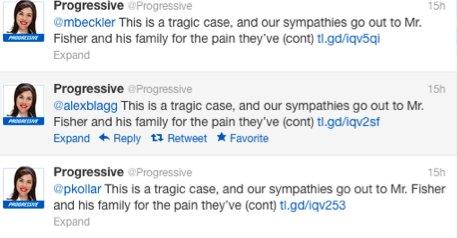 The only thing missing here is the hashtag #sorrynotsorry
Contrast these with more proactive social media engagement, such as the one below from JetBlue:
How to Make it Happen
Don't forget the social aspect of social media – give your followers insights, behind-the-scenes looks, edge-of-your-seat announcements (before anyone else gets them), or fun quizzes that they can share with friends on their social networks.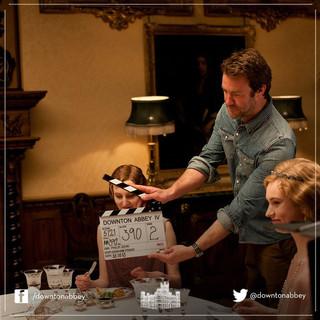 A behind-the-scenes shot of Downton Abbey on Pinterest
Go where your users are most likely to interact with your brand: For years, Doritos and the Super Bowl have been as close as peanut butter and jelly. Traditionally, Doritos' Super Bowl ad would direct users to vote on a micro-site. But, once they switched to Facebook, they surpassed almost all of their previous records. Users were able to vote for their favorites on the social channel very easily, with the top video winning a million dollars and being played during the Super Bowl.
Learn how customers use your product: You may be surprised at their inventiveness and creativity! As profiled in Social Media Examiner, Dunkin Donuts held a contest, encouraging customers to tell a story about how Dunkin Donuts fit into their everyday lives. The catch: since the contest was on Twitter, the story had to be 140 characters or less, nine of those using the hashtag #mydunkin. Users were then asked to appear in commercials featuring their stories and the winners were shared on YouTube and other social networks, prompting another call for entries. This is the ultimate social proof through creative social media engagement. What Dunkin Donuts has created here is the kind of customer-centric viral cycle that people actively want to participate in and be a part of.
Don't Over-Rely on Tools – As you can see from American Airlines' and Progressive's gaffes, relying on traditionally time-saving measures, like auto-tweets, can do more harm than good. Use tools to augment, not replace your social campaigns.
Social media marketing is not blindly hoping you hit the target. Be strategic, friendly, and most of all, real.
Acknowledging your customers and valuing their feedback, suggestions, and posts is just one part of your social strategy. Engagement truly blooms when people don't just connect with a company and connect. This leads us to the second part:
Get the Audience Actively Involved
The "Golden Tote" is a monthly subscription service that encourages users to "pick a tote" (for $49 and $149 respectively). The subscriber gets to pick two items, while the rest are surprises. To encourage more subscribers, they actively ask their Facebook users what sort of items they should carry next. This is what engagement is all about.
Asking your target audience makes them feel valued, important, and part of the group, a foundation for effective social media engagement.
Latch Onto an Existing Demographic Without Losing Your Appeal
Toilet paper. It's something everyone uses and everyone needs. It's also just about the most unappealing product to talk about on a social media post…or is it?
How to Make it Happen
Ask Questions – Involve your audience in more than just everyday quizzes, trivia, and contests. Give them a behind-the-scenes glimpse of your work, encourage questions about the product creation process or have them speculate on your next big launch. Don't be afraid to show them what goes into making your product or service – after all, they want to support you and make your brand a part of their lives.
Embrace a Demographic – Toilet paper and weddings go together like peanut butter and egg rolls. But, in the Charmin example, they were able to turn an everyday item into something unique and interesting. With a little creativity, could your product appeal to moms? Pet lovers? Foodies? Travel buffs?
Create a Hashtag – What started as a daily ritual on Instagram has spilled over into Facebook: that is, turning each day into a showcase. You may have heard of #TBT or Throwback Thursday, or even #Caturday (Saturday, with cats). But, no one "owns" a hashtag, so you can co-opt a day of the week for your own product and engage your audience to share their images. A few examples:
Your Audience Wants To Be Rewarded
There are lots of ways to reward your audience, other than always dishing out discounts and coupons, in exchange for likes and comments. Consider that your audience can feel just as valued with other things that won't cost you a dime.
Once You Build Up Social Media Engagement, How Do You Maintain It?
Social media engagement goes well beyond regular posts and updates. At some point, very early on, it's going to be a given that most of your audience is familiar with your product or service. That's the perfect opportunity to stretch your social network wings and expand on other ideas related to your business, but not necessarily about your products.
For example, if you're an online clothing retailer, chances are good that your audience wants to know what trends they should expect for upcoming seasons. If you're a dog groomer, what other tips, beyond grooming, can people take on their own to keep their pets healthy and happy? What sort of foods should they look for? What should they avoid?
Even just chatting about (positive) current events can reinforce those positive feelings and associate them with your brand. Take time out to do more than a just post: Teach. Explain. Relax and have fun – and don't forget that social media engagement is just as much about the social as it is the media.
What are some other ways to boost your social engagement?
Source: Neil Patel