Can I let you in on a secret?
You're sitting on your most influential marketing force.
No marketing campaign – paid or organic – can quite measure up to its power.
I'm talking, of course, about your customers.
They can be your greatest champion, your most prolific sales team, and your most persuasive mouthpieces.
The best part? You don't have to pay them a dime.
But there is one condition.
You need to know how to convert your customers into your brand advocates.
Jay Baer describes a brand advocate as a "volunteer marketer – a customer that proactively uses their time and social capital to promote a company or cause."
Is advocacy difficult to foster? Not at all.
But it does require a solid strategy.
And it might take time to develop.
The power of customer advocacy
Today's customer has more choice, more information, and more power than ever before.
The result?
The way that buyers research, engage with brands, and evaluate their purchase decisions has shifted dramatically.
In fact, 90% of people trust brand recommendations from friends, and 70% rely on consumer opinions.
What does this mean for your business?
Your customers are your greatest assets.
Here are some of the major benefits of getting your customers to market your business for you.
1. You can significantly lower your customer acquisition costs (CAC). This refers to the cost incurred when acquiring a new customer.
Your ability to keep these costs low has everything to do with how profitable your business will be.
The great news?
If your customers are driving conversions for you, it means your CAC will be minimal.
2. You can drive massive demand for your products and services. As more of your customers advocate for your brand, the interest and demand for your offers go up.
The result? More sales and revenue for your business.
3. You can multiply your social capital. When customers use their social networks to promote your business, their sphere of influence automatically becomes yours.
They will be utilizing their online assets to drive brand awareness, distribute your content, and power your overall marketing efforts.
Considering that many marketers are consistently missing their targets, it's a great idea to tap into your customers' influence.
Did you know that 79% of leads never convert to a sale? Your customers can help with that!
4. You can have one of the most sustainable marketing models. Customer advocacy is an evergreen marketing strategy.
It means that it will keep bearing fruit for years down the line. That's way more than you can say about strategies like influencer marketing.
Sure, you may experience a massive boost when an influencer promotes your brand.
But how committed are these outsiders to your business? Compared to your customers, they're no match.
It looks like consumers agree.
A whopping 92% trust brand advocates over influencers!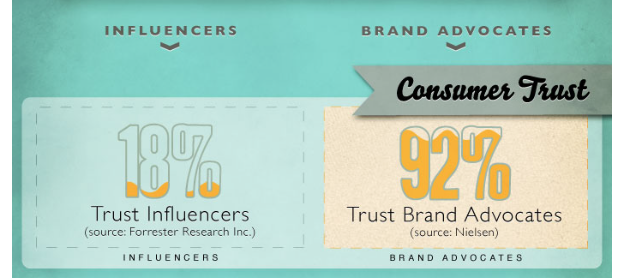 Now that you understand what your customers can do to elevate your marketing, let's look at how you can turn them into brand advocates.
Come up with a strategy for your customer marketing campaign
Naturally, the first thing you'll need is a plan.
Consider the following questions.
Let's get into each of them.
What's the current state of your marketing? This is where you'll pinpoint any problems that you'd like to fix.
You may also decide that something is working well for your business and you'd like to maximize the results.
Either way, this step is all about getting an overview of your marketing landscape. Look for gaps, challenges, and missed opportunities.
For example, you may decide that it costs too much for you to acquire a new customer.
Your goals moving forward will be geared towards fixing that.
What are you hoping to achieve with your customer marketing campaign? It's time to set your objectives.
Here are some of the goals that you may consider.
Boost overall brand awareness.
Mobilize your customers to promote a specific sales project.
Encourage a new brand narrative.
Increase your presence in a new subset of the market.
Ideally, your goals should be measurable and number-driven.
Why?
This specificity can increase your chances of achieving your goal by 20%.
Without these goals, you'll have a difficult time mapping the action steps needed to get there.
It will also help you project how many customers you'll need to convert into advocates to achieve your outcome.
Here's a more number-driven perspective on the above goals.
Increase Facebook followers by 10,000.
Generate $50,000 in sales for new product launches.
Get 1 million views on the new brand story video.
Gain 2,000 new female sign-ups to your newsletter.
Note: These goals do not have to be separate from your overall business objectives.
In fact, they should be aligned.
You can target the same goals that you've already set for your business.
I recommend breaking these goals down into tiered goals. You can then designate a percentage of that to be achieved by your customer marketing campaign.
Set the stage for a successful customer advocacy program
There are two critical elements to fostering advocacy among your customers.
Have a great product.
Provide unforgettable customer service.
Master these two things, and you're on your way to reaping the rewards.
Let's break it down.
Have a great product or service. This is a given. If your product or service sucks, nobody will be willing to advocate for it.
Unless, of course, they're paid. That would defeat the organic purpose of customer advocacy.
What's my best advice for ensuring that your product is a slam dunk win?
The number one reason why businesses fail is that there's no market need for their offer.
What makes an ideal customer advocate?
Three things.
Reach: You want to target customers with enough of a following to have an impact.
Consistency: Your advocates need to consistently champion your business. Otherwise, they won't build the trust among their followers that are needed to drive results.
Authority: Nothing else matters if your customers can't inspire their network to action.
Have a results/reward system for your customer advocates
The most effective type of advocacy is organic.
You shouldn't have to pay your customers to rave about how much they love you.
However, it's important that your customers are rewarded for the value that they bring to the table.
There are several ways to do this.
Here are some ideas.
Include your customers in the beta phases of a new product launch or give them sneak peeks of new projects.
Hold exclusive events for your advocates.
Have a point system where the highest performing advocates get a special prize.
Feature your customers on your websites and social media pages.
Give your advocates branded merchandise.
Conclusion
No doubt, your customers are your greatest allies.
If you give them a great product coupled with remarkable service, your job is half done.
Chances are, they'll promote you at their own discretion.
But just imagine what you can achieve if you actively engage your most loyal customers as advocates for your brand.
You can elevate your results by empowering them with the tools needed to market your products and services.
The best part?
This is a sustainable strategy.
You don't have to hand out referral commissions or expensive rewards.
Simply provide your customers with a transformative experience, and they'll return the favor.
What strategies do you use to encourage customers to market your business for you?
Source: Neil Patel